Finding the right heating and cooling system for your commercial building is no simple task, but regardless, it should still be at the top of your priority list. Good indoor air quality and a comfortable working environment are crucial for the productivity, efficiency and well-being of employees. In this article, one of the leading HVAC installation companies takes a closer look at the different types of HVAC systems on the market.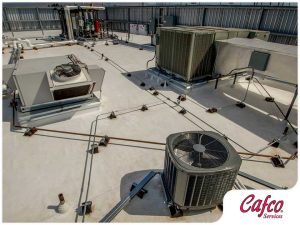 The single-split HVAC system is designed primarily for small – and medium-sized businesses, offering a practical and affordable approach to cooling and heating. The self-contained nature of these units means that damage to a single device won't impede the performance of the other ones. However, single-split systems take up a lot of space since each indoor unit requires an outdoor unit.

The multi-split HVAC system is suitable for larger buildings – It connects up to nine individual units with one outdoor unit. A smart technology, this system detects changes in the indoor air and proceeds to make the necessary adjustments in an automatic manner. Opt for ceiling- and wall-mounted air conditioning units for better control and versatility. However, since this system requires comprehensive pipework, the cost of installation is higher than single-split systems, says an HVAC repair expert.

The variable refrigerant flow (VRF) or variable refrigerant volume (VRV) system is a commercial system that comes in two variants – heat pump and heat recovery–which are used in hotels, large offices and retail settings. A heat pump can provide either heat or cooling, whereas a heat recovery system can provide heating and cooling at the same time by gathering waste heat. One drawback associated with these systems is that installation and maintenance costs are very high.
Cafco Services is among the premier heating and air conditioning maintenance companies in Cincinnati, OH. Our top-rated technicians are committed to providing the comfort and efficiency every residential and commercial client needs through industry-leading products and outstanding customer service. Call us today at (513) 242-3400 or fill out our contact form to set up an appointment.